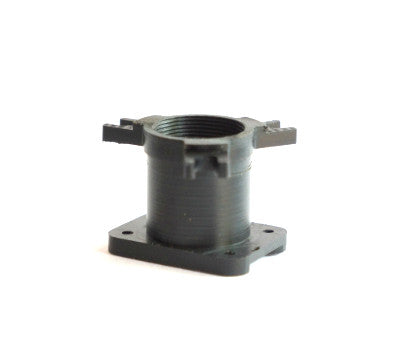 SuperMount - GoPro Hero 4/3+/3 Lens Mount
What is the SuperMount?
The SuperMount is a lens mount fabricated by Peau Productions to allow the use of many more lenses in the Hero 4 & 3 cameras than the stock lens mounts allow. Precision-machined on an industrial CNC from a solid block of Acetal/Delrin plastic the SuperMount is tapped with threads starting from the top of the mount, not the bottom like the stock lens mount. This allows lenses that normally wouldn't work in the stock lens mount's bottom half-threaded barrel to thread in and focus (please note, this means the
stock lenses do not work in the SuperMount
).
Benefits of Using the Supermount vs Stock GoPro Lens Mount
*Threads Starting From Top of Lens Barrel Provides Added Stability to Lenses With Long Back Focal Length (BFL), Such As Our 5.4mm 10MP Non-Fisheye Lens
*Tighter Lens Barrel Means Lens Will Not Vibrate Out of Focus (Essential for High Vibration Filming Such as on a UAV)
*Filter Cavity Allows Filters to Be Installed in Lens Mount vs On or Over the Lens Itself (Max Dimensions: Diameter 12.53mm & Thickness 3.80mm)
How is the SuperMount installed?
You need to disassemble the Hero 4, 3+ & 3 camera in order to install the SuperMount. Simply remove the stock lens + lens mount and install the SuperMount. No cutting, gluing, or breaking of components is required for install. Camera will fit in all original cases and accessories once the SuperMount is installed. You also do not need to take the stock lens out of the stock lens mount, just swap the SuperMount in and you're ready to install our lenses.