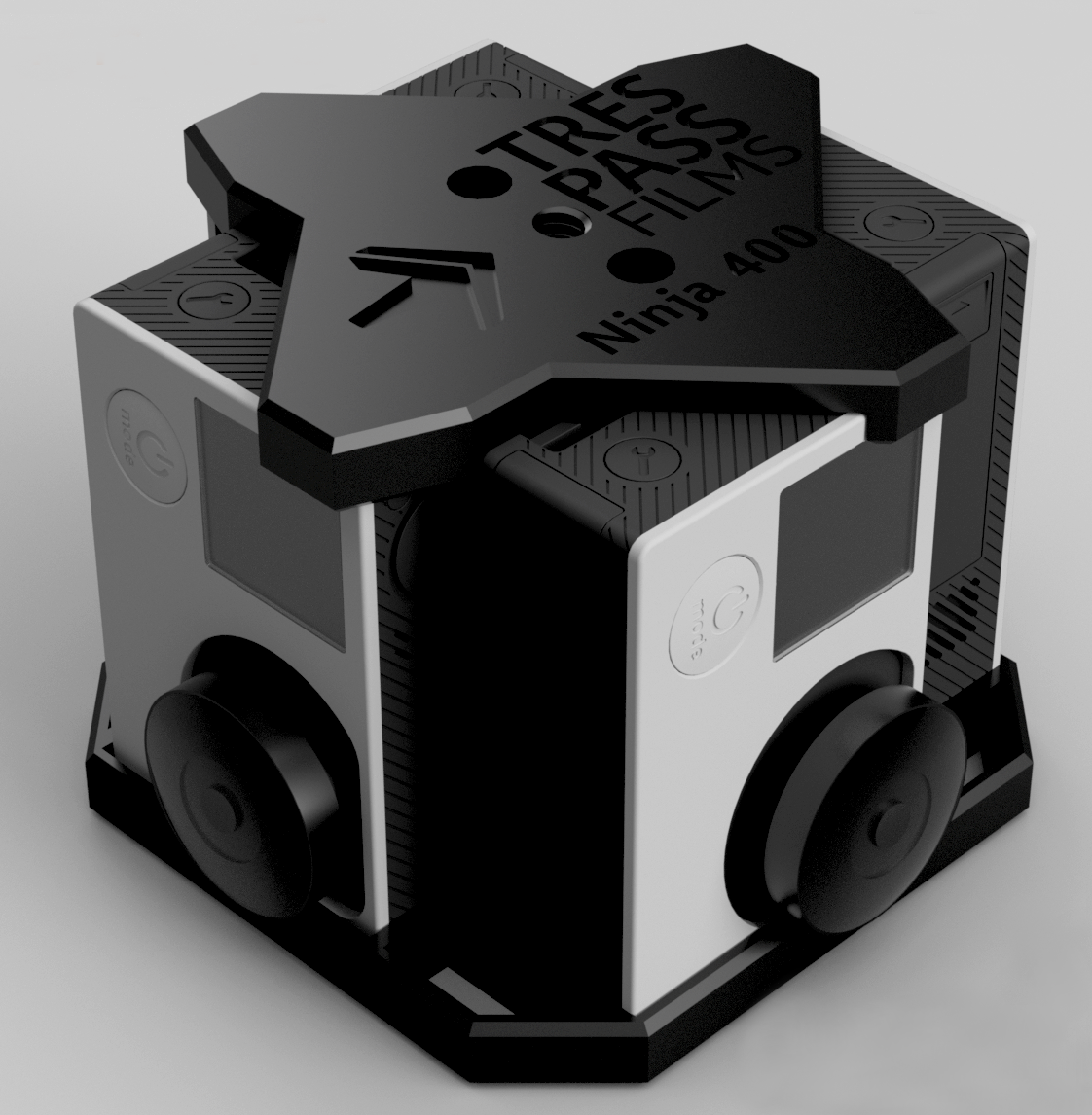 Please Allow +1 Week for Processing Aluminum Mount Orders
Introducing the Trespass Films Ninja. A light-weight accessible rig built for easy 360 degree media capture with the PeauPro220 cameras.
The Ninja Rig comes in 6 design options: the 1-camera rig, the 2-camera rig, the 3-camera rig, the 4-camera rig, the 6-camera rig, and for the inner Ninja army in you the 8-camera rig.
Each rig is an uber-compact design from 3D printed Nylon or milled aluminum materials (choose material above). Water insoluble and can withstand heat up to 150-160 degrees Celsius.
Total accessibility: HDMI, USB, microSD, and battery are all accessible while the camera is in the mount, allowing for fast changes, swapping, downloads, and/or charging without the additional downtime of removing the cameras from the rig.
The durable 1/4"-20 tripod threading on the top and bottom of the mount allows you to attach it to all sorts of locations. Want to attach directly to a GoPro mount? There is an included tripod to GoPro adapter.
Stitched Field of View:
Monoscopic 360x180 with 100 degree Overlap or
Stereoscopic 360x180 with 40 degree Overlap
Package Contents:
(1) Trespass Films Ninja 400 Bottom and Top Camera Plates
(2) Stainless Steel Bolts and Wingnuts
(1) Tripod 1/4"-20 Bolt to GoPro Mount
Weights:
Stainless Steel Bolts and Wingnuts (per bolt/nut combo): 23g 
Tripod 1/4"-20 Bolt to GoPro Mount: 13g
Mount Weight (Nylon): 78g
Mount Weight (Aluminum): 130g
Mount+Cameras Weight (Nylon): 454g
Mount+Cameras Weight (Aluminum): 506g
 4k 16:9 Video Frame:
2.7k 16:9 Video Frame:
 Example Video (Underwater shots captured using Kolor 
Abyss Rig)