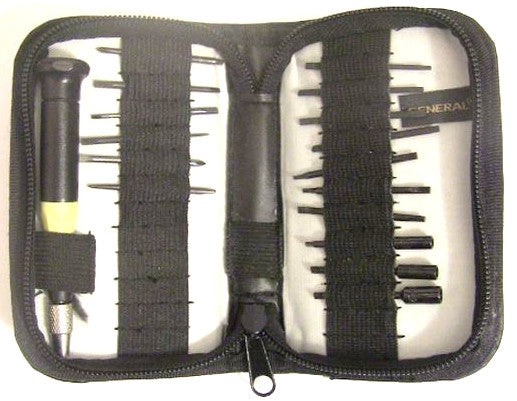 Lots of customers have complained about having difficulty installing the m12 mounts so I thought I'd offer up the same tool I use to dissasemble/assemble the cameras.
This is a new micro-screwdriver kit with interchangeable bits. I use two screwdrivers in my shop, one with each of the bits in the picture below. The phillips/star head is used to unscrew any of the screws. The flat head is used to pop open the OEM case safely.
The other bits may be useful for other things of course. It all comes in a nice zippered leather case.
The end of the handle turns/swivels so you can palm it and twist it with your other fingers (see picture below). This allows me to open the cameras really fast.
Included Bits
Slotted: 3/64", 1/16", 5/64",
3/32"
Phillips:
#000
, #00
Star: T6, T7, T8, T9
Hex: 0.050, 1/16", 5/64"
Nut Driver: 3/32", 1/8", 5/32"
Awl/Scribe bit
Bolded bits above are the ones I use...basically the smallest Phillips and largest Slotted(flat).