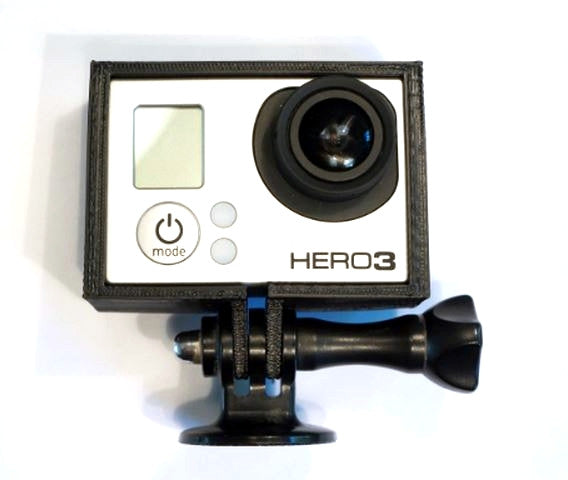 Naked Frame for GoPro® HERO® 3/3+ Cameras
This custom 3D ABS acrylic printed frame mount is the smallest, lightest way to mount your HERO® 3/3+ camera. For use with the HERO® 3/3+ cameras only. Featuring a sleek frame design for low profile, compact mounting.
Compatible with LCD Touch BacPac™ and Battery BacPac™ both HERO® 1,2 & 3 versions.
Advantages over GoPro® branded Frame Case:
-Lighter
-Less Expensive
-One frame for Camera or Camera+BacPac™
-Able to eject/insert SD card with frame on camera
-Not injection molded plastic so stronger build quality
-Able to use any BacPac™ Accessories


Note: The Frame mount is NOT waterproof and not optimized for use in extreme conditions where dirt and sharp objects can damage the camera lens.
Weight: 12.0g
GoPro® Small Frame: 13.32g
GoPro® Large Frame: 18.43g
Compare to GoPro® Model Number: ANDMK-301 (HERO®3 Item)
Included: (1) Plastic Frame
-Tripod mount or camera not included
*GoPro® and BacPac are trademarked and copyright by Woodman and GoPro

Please refer to minute 0:53 in the following video for installing onto your camera:

Now With (Optional)

Assembled

getfpv.com LayerLens - Protect Your Lens! Benefits of Using LayerLens:
-Lens Outside Properties = Anti-Reflective & Anti-Smudge Coating
-Lens Inside Properties = Anti-Reflective Coating
-No Image Clipping Even in Wide Modes
-Easy to Install and Remove
-Works with BacPac Accessories
-Weighs only 7.5g
*CAMERA NOT INCLUDED*