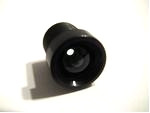 Normal m12 Lens - Blocks IR Light
Buying an m12 setup and you
DON'T want to see Infrared Light
? Then this lens is for you. This lens will make any camera setup without a band pass filter in it see visible light like a normal camera.
This lens is a standard 3.85mm m12 lens, no zoom, no distortion.
It CANNOT be modified to remove the infrared blocking filter without damaging it.
Maximum Order: 10